I live in Dallas, TX with my wife Vivien and our three kids. I am a Priest serving at Church of the Incarnation, though most of my time throughout the week is spent serving as the Dallas Headmaster and Theology Department Chair at Coram Deo Academy.
My most regular essay writing can be found on the Covenant blog, where I am a contributor, and on Rhythms of Habit, a newsletter about approaching the Church Calendar as an apprenticeship in Holiness.
This particular blog serves as a Wunderkammer of sorts: a place to write brief thoughts and updates, but also as a storehouse for my own notes while I work on a number of writing projects. (Which, at the moment, include one on the Church Calendar and another on Sacraments in a virtual age.)
I send a very occasional personal newsletter, too. Think of it as slower, but still social, media. Click here to read a sample or subscribe.
My first book, From Law to Logos: Reading St. Paul's Epistle to the Galatians is now available.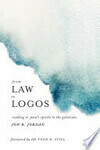 From Law to Logos: Reading St. Paul's Epistle to the Galatians
by Jon R. Jordan